One Book Project : The Making of the News Observer with Editor James Luckey Jr.
In an age of information where news, news, and more news is literally at one's fingertips, whether credible or not, many may ask have printed newspapers become a thing of the past?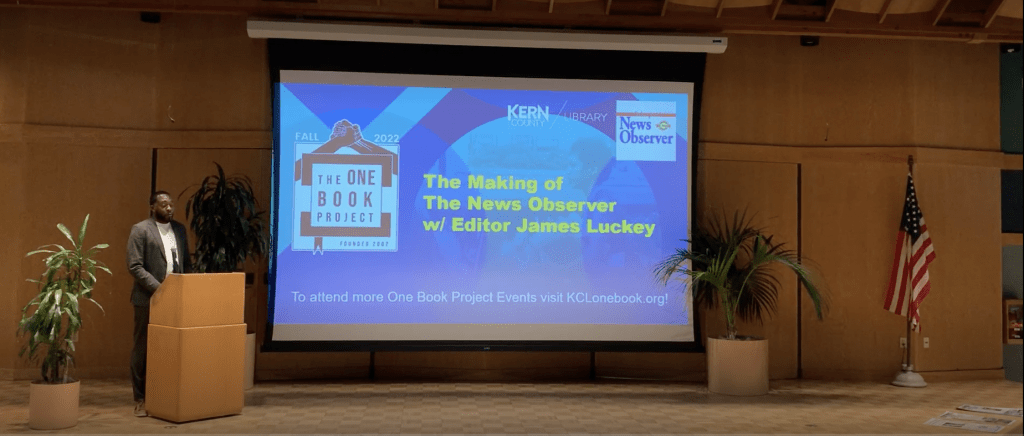 By Darlene L. Williams | Contributing Writer
(Bakersfield, Calif.) — In an age of information where news, news, and more news is literally at one's fingertips, whether credible or not, many may ask have printed newspapers become a thing of the past? 
The One Book Project (a communitywide reading & discussion project inviting everyone to read and discuss the themes of equality and civil rights), sponsored by Kern County Library and California State University, Bakersfield hosted The Making of the News Observer with Editor James Luckey Jr., Tuesday, October 4, 2022 at the Beale Library.
 The hour-long discussion shed much needed light on the birth, success, and content of the Black press newspaper, namely Bakersfield News Observer (BNO). 
James Luckey Jr., Entrepreneur, Editor of Bakersfield News Observer, Los Angeles News Observer and The Valley News Observer, spoke passionately about the history and legacy of the News Observer newspaper and its founder, the late Joseph Coley. 
 Luckey shared a glimpse into the life of Coley and the hard economic times which eventually led him to leave school early in his childhood.  Taking on various jobs and eventually enlisting in the U.S. Navy, Coley would later return home to fulfill his life-long desire of returning to school.  He enrolled into Bakersfield Adult School and graduated valedictorian of his class. Coley continued into the field of education and onto the campus of Bakersfield High School as a campus supervisor. 
 In 1974, to support his growing family, Coley started DDD a company that delivered hand-bills door-to door. 
"It was during this time, Luckey said, that Mr. Coley met my grandfather, Ventura Watson who shared his idea of starting a community newspaper with the primary objective of the being the voice for the black community. And with the help of his wife, Ellen Coley, they established the newspaper." 
"Ellen was a fiercely made and civil-minded woman, Luckey said, "She made an exceptional addition to their team." 
In 1974 C&W Publications was birthed, later becoming known as the Bakersfield News Observer. Coley got inspiration for the name of his newspaper from the Charlotte News Observer in Charlotte, NC where he originated from. 
Coley and Watson became game-changers in the way news was distributed and shared in the black community.  And having knowledge of the fact that stories and events affecting African Americans communities would not be shared from their perspectives, or even shared at all, they began gathering 
local news as well as shared news from other black press platforms around the world and began distributing free newspapers to black households throughout Kern County.  
"They shared the same conviction that the Black Press could be led  a world away from racial and national antagonisms when it accounts for every person regardless of race, color, or creed", Luckey said.  
In 1984, BNO started its second and third publications, The Los Angeles News Observer and The Valley News Observer, which covers L.A, Lancaster, and Palmdale areas. 
After the demise of Coley in 2000, as well as the demise of Watson; Ellen Coley took the reins and continued to publish the weekly newspapers addressing the concerns of the local African American community until her death. 
Although the name of the newspaper has slightly changed, it stills holds true to its roots and the motivating purpose of representing the African American community, Luckey said. 
Luckey, along with his father, James Luckey Sr. and the Coley's youngest son, Jonathan Coley continue to move the vision of "spreading the news" into its forty-fifth year of service. 
And now with expansion, growth, and technology, we are touching the lives of readers in Bakersfield and in Southern California Luckey said. 
The News Observer continues to follow the vision of the Coley's and Watson by getting news that matters and hits home to black communities weekly; come rain or shine. 
BNO is the only adjudicated black press newspaper in Kern County. Luckey said, as he explained what being adjudicated means in terms of start-up businesses using fictitious names. DBA's (Doing Business As) must be filed with the Kern County Clerk's office and then published in a paper of general circulation such as BNO. 
Although Bakersfield News Observer has been in operation longer than Luckey has been on earth, many in Kern County are unaware of the paper's existence.  Luckey briefly touched on the rejection and racism the paper still faces in Kern County. 
Many local businesses and Medical clinics, with large African American clientele and patronization, have refused the newspapers at their locations; some believing the papers are Muslim or revolutionary without even reading any of its content.    
 In sharing how the newspaper gets its content, Luckey stated that, roughly, there are 250 black press papers throughout the United States. We share news across a news wire with them and vice versa, they with us. It just keeps black communities informed about things that they should know, not only in their communities, but black and brown communities across the country. 
For example, he further explained, when the tragic passing of rapper Nipsy Hustle happened in South Central Los Angeles, we were able to get coverage and share stories among ourselves that other newspapers couldn't give. 
 I can speak from a personal standpoint of knowing Nipsy and his family. Our papers were distributed to the store where he was tragically killed. We were able to share his story in different newspapers across the country that couldn't be on the front line to get his story.  
Furthering explaining how content is gathered, Luckey spoke about the January 6th attack on the nation's capital.  While the Bakersfield News Observer was not in Washington, DC to get that story; however, one of the black press newspapers, The Washington Informer, was onsite firsthand and with a better perspective which afforded us the opportunity to publish those stories here in Bakersfield, he said.   
"We cover a lot in our community, Luckey said, including sports and athletes. We try to follow those athletes who may have transitioned out of Bakersfield into the professional fields and/or are making positive moves in other colleges out of state. We cover UCLA, USC, The Los Angeles Clippers, Los Angeles Lakers, NBA, and The L.A Rams".  
Luckey spoke excitedly of the LA News Observer covering the recent super bowl in Inglewood, Ca. "That was probably one of the greatest perks of the job, Luckey said (chuckling). I got to cover that firsthand and it was probably one of the greatest experiences of my life."
Luckey alluded to the probability that many Millennials and Gen Z's probably would not pick up a newspaper to read, he concluded that the black printed newspaper is still very much alive and functional; answering the question that newspapers are not a thing of the past. 
 When an attendee asked Luckey if the newspaper legacy would continue beyond him? He responded with the anticipated hopes that his inquisitive young nephew would one day take the torch and continue the strong legacy of the black newspaper.
The informative event ended with questions from the audience. 
Readers can pick up printed newspapers at multiple locations around Bakersfield, including:  Beale Library, The Bakersfield Police Department, Bakersfield College, CSUB, Albertsons and many other locations as well as BNO's main office on 21st Street.  All three newspapers can be accessed online at ognsc.com as well as enquiries about weekly subscriptions. 
Bakersfield News Observer coverage of local news in Kern County  is supported by the Ethnic Media Sustainability Initiative, a program created by California Black Media and Ethnic Media Services to support community newspapers across California.