The California Black Media Political Playback: Assemblymember Tina McKinnor Wants More Affordable Housing
Your weekly news roundup of stories you might have missed.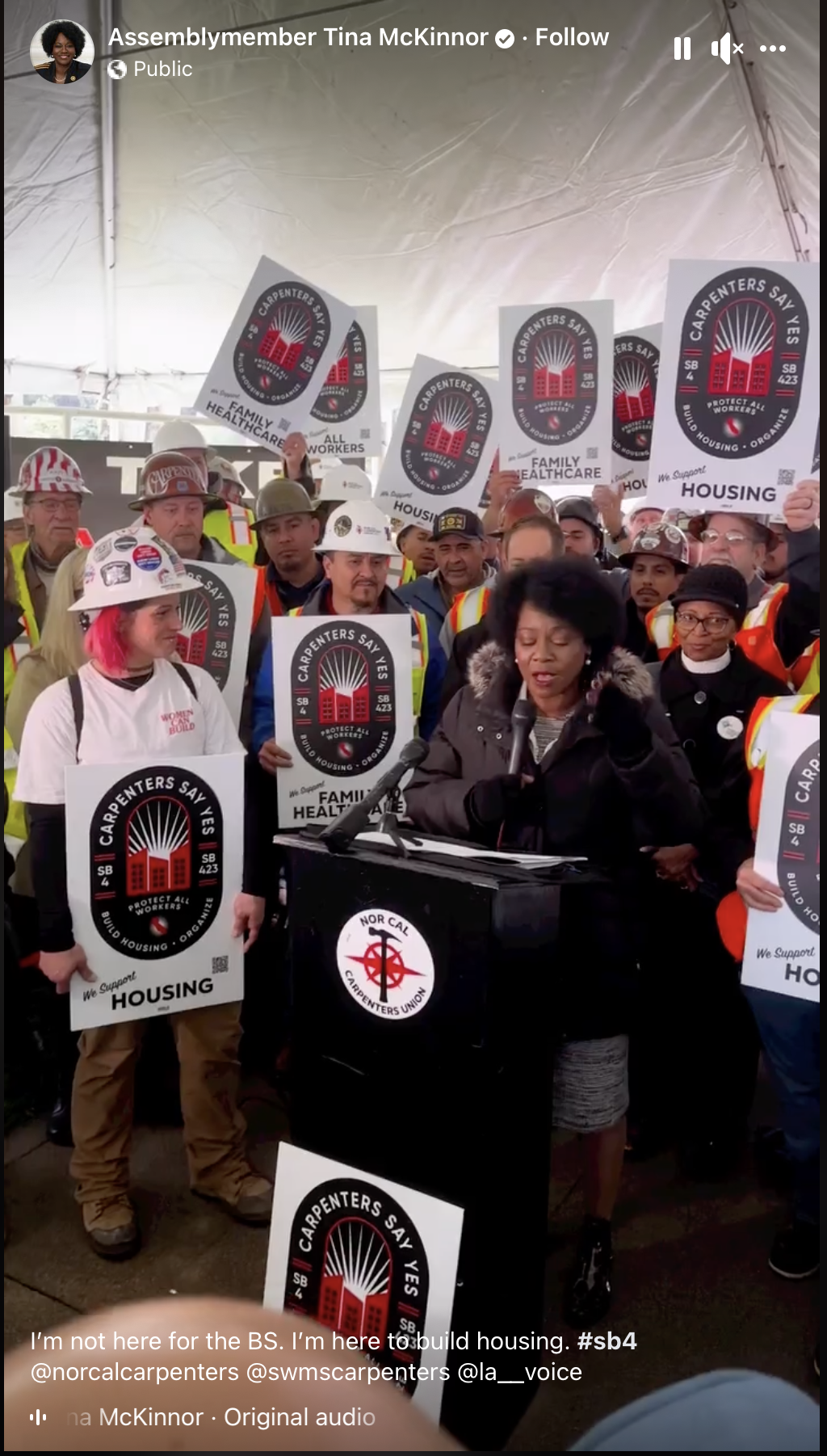 By Tanu Henry | California Black Media 
Assemblymember Tina McKinnor Wants More Affordable Housing 
Assemblymember Tina Mckinnor (D-Inglewood) says she is "not here for the B.S." 
"I'm here to build houses," McKinnor said to rounds of applause from members of the NorCal Carpenters Union surrounding her podium as she made the statement last week in Sacramento supporting Senate Bill (SB) 4. 
SB 4 is one of several housing bills making their way through the California Legislature designed to expand housing opportunities and eliminate some of the red tape that prevents or slows down the construction of affordable housing units in local communities across the state. 
On March 21, members of the Assembly Housing Committee approved the bill with a 9-to-1 vote. It has been referred to the Committee on Governance and Finance for review. 
—
Secretary of State Shirley Weber Releases Voter Registration Report 
Last week, Secretary of State Shirley N. Weber released a report updating the public on voter registration across the state. 
According to the report, there are 21,980,768 registered voters in California. That number accounts for 82.27% of all eligible voters in the state. 
Currently, among all registered voters, 23.83% are Republicans; 46.89%, Democrats, 22.48%, no party affiliation; and 6.81%, other. 
The report does not break down voters by race. 
It is a compilation of voter registration data (as of Feb. 10) submitted by elections offices in all 58 of California's counties and it includes:
Voter registration by political party, county, city, congressional district, state senate district, state assembly district, state board of equalization district, county supervisorial district, and political subdivision

 

Statewide voter registration by age group and by county

 

Historical comparisons to previous reports in odd-numbered years

 

Voter registration by political bodies attempting to qualify as political parties (by county)

 
—
Legislature Advances Bill Written to Penalize Oil Companies for Price Gouging Last Summer
Last Thursday, the California Senate passed a bill close to Gov. Newsom's heart calling for oil companies to be punished for making arbitrarily increasing prices at the gas pump last summer and benefitting from it. 
At the height of the surge, gas prices in some cities in California reached as high as $8 per gallon, causing widespread public frustration.  
"For decades, oil companies have gotten away with ripping off California families while making record profits and hiding their books from public view," said Gov. Newsom last week after the Senate vote. 
Newsom says the legislation will serve as a deterrent. 
"With this proposal, California leaders are ending the era of oil's outsized influence and holding them accountable," the governor continued.  "Thanks to the Senate's quick action, we're getting this done for California families."
The legislation calls for the creation of an independent regulatory group, the California Energy Commission (CEC), to investigate and determine whether the oil industry (more specifically, the five major oil companies servicing California) are engaged in price gouging. 
The five-member commission would be appointed by the governor and approved by the Senate, and it would be granted the authority to access the financial statements and other corporate documents of oil companies, as well as subpoena executives if needed. 
According to the Governor's office, the CEC would establish an "allowable margin" within which oil companies can set the price of gasoline per gallon. And before it imposes penalties, it would have to determine that the fine would benefit customers. 
If the law passes, the CEC would be subject to oversight by the State Auditor. 
—
Woman of the Year: Assemblymember Akilah Weber Celebrates Her Mom, Secretary of State Shirley N. Weber 
In a heartwarming tribute last week, Assemblymember Akilah Weber (D-La Mesa) celebrated her "Woman of the Year."
"This Women's History Month, I am proud to announce that our Woman of the Year is none other than California Secretary of State Shirley Nash Weber, who also happens to be my phenomenal mother," said the lawmaker and medical doctor who represents the state's 79th Assembly District in the San Diego area. 
"Although she is a woman of many firsts, she has made it a point to leave the door open for others who come behind her, including myself," said the younger Weber, before listing her mom many personal and policy achievements. 
"It is truly my honor to recognize Secretary of State Weber," the younger Weber concluded. 
—
Assembly Bill to Make Big Tech Pay Usage Fees for News from Local News Outlets 
Assembly Bill (AB) 886, or the California Journalism Preservation Act (CJPA), requiring big tech companies like Google and Facebook to pay fees for content they display from local news outlets was expected to go into print late last week. 
The bill, authored by State Assemblymember Buffy Wicks (D-Oakland), calls for the large digital companies – who have become advertising giants earning money from content distributed on their platforms – will pay a "journalism usage fee" each time they use "local news content and sell advertising alongside it," according to a statement released by Wicks' office. 
The legislation also requires publishers to use 70% of the usage fee they recover from the big tech companies to invest in jobs. 
 "The CJPA provides a lifeline for news outlets – large, small, and ethnic – by directing a portion of the ad dollars back to the print, digital, and broadcast media that bear the entire cost of gathering and reporting local news while Big Tech bears none," said Wicks. "These dominant digital ad companies are enriching their own platforms with local news content without adequately compensating the originators. It's time they start paying market value for the journalism they are aggregating at no cost from local media."
Both the California News Publishers Association (CNPA) and the News/Media Alliance (NMA) support the bill. 
—
Apply Now: The California Legislative Black Caucus Launches Annual Scholarship Program 
The California Legislative Black Caucus (CLBC) has launched its annual Frederick Roberts Scholarship Program for college-level study. 
"We invite our community partners to share this scholarship application far and wide to graduating high school seniors and sollege freshman throughout California. The scholarship application deadline is May 15th," the CLBC announcement reads. 
Named for Frederick Roberts, the first African-American legislator in California, the CLBC says the scholarship program was "established to assist deserving students by offering financial assistance to help meet educational expenses." 
To apply visit the CLBC website.