Williams Joins Brown as Walter Camp Winner
By Earl Heath, Contributing Sports Writer   After an outstanding effort against Notre Dame Caleb Williams joined Illinois' defensive back Sydney…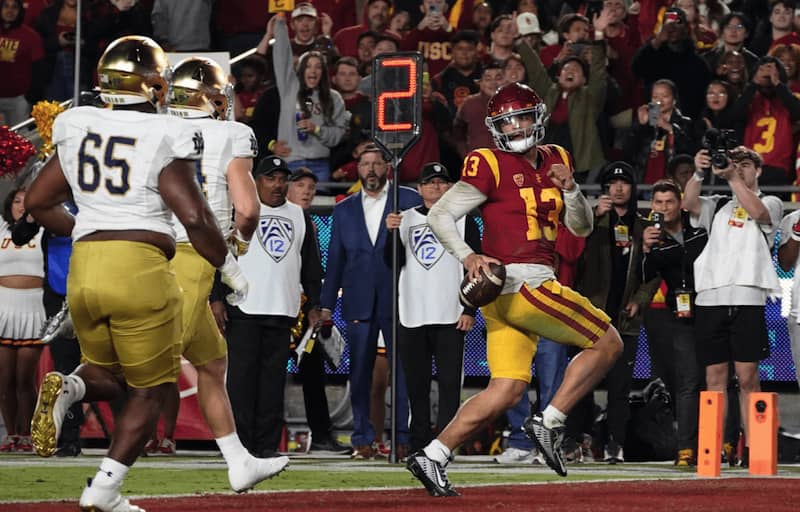 By Earl Heath, Contributing Sports Writer
After an outstanding effort against Notre Dame Caleb Williams joined Illinois' defensive back Sydney Brown and Walter Camp National Offensive and defensive Player of the Week.
Williams accounted for four touchdowns (1 passing, 3 rushing) as sixth-ranked USC defeated 15th-ranked Notre Dame, 38-27.  Williams passed for 232 yards (18-of-22) while connecting with 9 different receivers on the night. He also rushed for 35 yards to lead the Trojans.  USC was the first team all season to total 400+ offensive yards on the Fighting Irish defense.
The six-one,190 pounder continues to impress the nation with his dazzling performances. Through 12 games, Williams has 44 total TDs and 3 INTs. He is 268-for-407 (.658) for 3,712 yards. He has also rushed for 351 yards on 97 carries with 10 TDs. He is also in line for W Camp Player Of The year. With the win, USC improved to 11-1 and will play Utah in Friday's Pac-12 Championship Game.
The sophomore quarterback from Washington DC has won Offensive Player of Week for the second time this season (Oct. 30) and is the eighth USC honoree to earn Walter Camp National Player of Week honors since the award started in 2004.
On the defensive side Brown recorded 10 tackles (4 solo) and had two interceptions and one fumble recovery as Illinois defeated Northwestern, 41-3.  Brown also became the first FBS player to return an interception (38 yards) and fumble recovery (53 yards) for a touchdown in a single game.  With the win, Illinois improved to 8-4, 5-3 in the Big Ten.
The senior from London, Onterio is the third Illinois player to earn Walter Camp National Player of Week honors since 2004, joining former Fighting Illini running back Mikel LeShoure (Nov. 21, 2010) and linebacker Jake Hansen (Oct. 20, 2019).
Walter Camp, "The Father of American football," first selected an All-America team in 1889. Camp – a former Yale University athlete and football coach – is also credited with developing play from scrimmage, set plays, the numerical assessment of goals and tries and the restriction of play to eleven men per side. The Walter Camp Football Foundation (www.waltercamp.org, @WalterCampFF) – a New Haven-based all-volunteer group – was founded in 1967 to perpetuate the ideals of Camp and to continue the tradition of selecting annually an All-America team.