Mordecai SMU, Morrison Notre Dame Walter Camp winners 
By Earl Heath, Contributing Sports Writer The Walter Camp Football Foundation has announced the Football Bowl Subdivision National Offensive and Defensive Players of…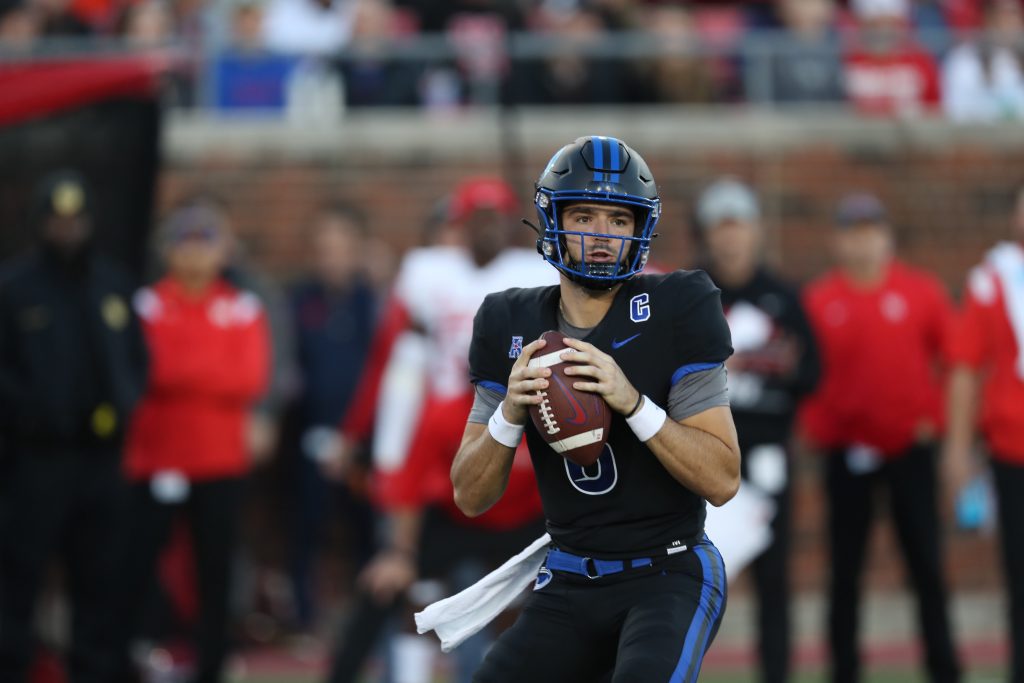 By Earl Heath, Contributing Sports Writer
The Walter Camp Football Foundation has announced the Football Bowl Subdivision National Offensive and Defensive Players of the Week, presented by 777 Partners, for games ending November 5.   
Tanner Mordecai of SMU and Benjamin Morrison of Notre Dame were named this week's Walter Camp winners. 
 Mordecai was on fire throughout the game as the senior from Waco, Texas set a school record and tied a Football Bowl Subdivision record with nine touchdown passes as SMU outlasted the Cougars 77-63.  It was the highest scoring regulation game in FBS history.  Mordecai had seven touchdown passes in the first half, finished the game completing 28-of-37 for 379 yards.  He also added 54 rushing yards and one touchdown.  With the victory, SMU improved to 5-4. 
The 6-3, 218 pounder is the fifth SMU player to earn Walter Camp National Player of Week honors since the award started in 2004, and the first since former Mustang quarterback Shane Buechele (Oct. 20, 2019).  
 On the Defensive side Morrison recorded seven tackles (4 solo), intercepted two passes (one of which he returned 96 yards for a Fighting Irish touchdown and broke up one pass as Notre Dame defeated fourth-ranked and previously undefeated Clemson, 35-14.  With the win, Notre Dame improved to 6-3.
"He studied really hard," said ND defensive coach Al Golden. "When the plays came to him he executed. He didn't go look for things or try to chase things down, when plays came his way he did his job."  
The 6-1 180-pound freshman from cornerback Phoenix, AZ. became the 12th Notre Dame player to earn Walter Camp National Player of We honors (since 2004), and the first since former Fighting Irish safety Kyle Hamilton (September 19, 2021). 
This is the 19th year that the Walter Camp Football Foundation will honor one offensive and one defensive player as its national Football Bowl Subdivision player of the week during the regular season. Those chosen are selected by a panel of national media members and administered by the Foundation.