Tavis Smiley's #MeToo exile didn't last. Inside his comeback on L.A. radio
"On this side of the PBS drama, what you hear in my voice is a sincere depth of gratitude to be back in the game, back in the business, to be in this space," Smiley said recently in a lounge at his Crenshaw Boulevard studio, in one of the few interviews he has given in the last five years. "The sweet spot for me has always been talking to people. These three hours on the radio are the best part of my day."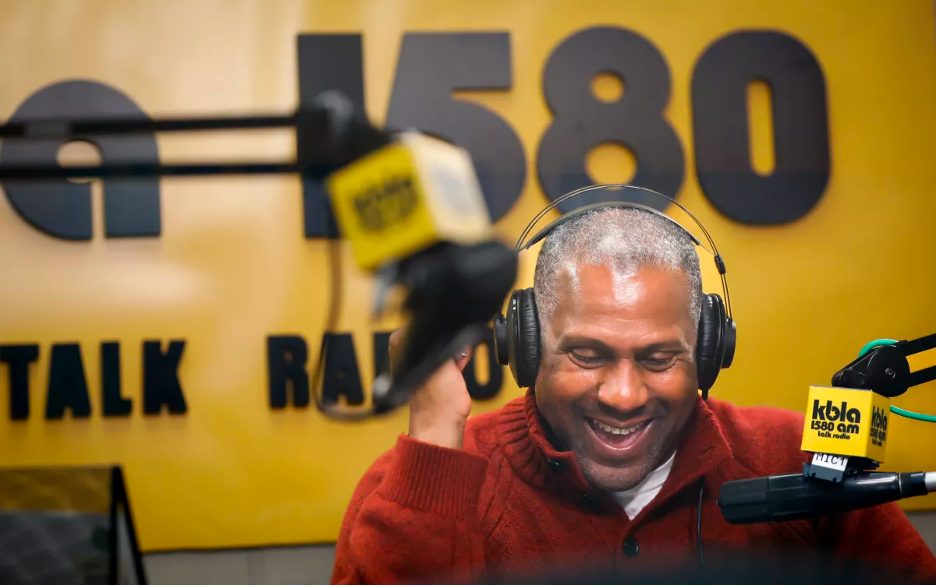 BY JAMES RAINEY 
Arriving from the Midwest in the 1980s, Tavis Smiley basked in the glories of Los Angeles. A bright and garrulous college student, he quickly befriended luminaries and charmed his way into a job with Mayor Tom Bradley. By the time he turned 30, he had talked his way into multiple TV and radio gigs.
He soon counted NFL legend Jim Brown and Hollywood titan Sidney Poitier as mentors. For a kid who grew up crammed into a three-bedroom Indiana mobile home with 12 family members, L.A. seemed like a city without limits.
Smiley strode onto the national stage, hosting his own talk show on BET, then on NPR before settling at PBS. He interviewed presidents, potentates and the world's biggest stars. The New York Times dubbed him "a world-class talker."
Then Smiley's talking — at least the public kind — went silent. PBS dropped the nightly talk show that bore his name five years ago, accusing him in a lawsuit of sexually harassing multiple women. He lost a court fight with the broadcaster and kept mostly out of the public eye, seemingly another alpha male permanently banished from the public stage by the #MeToo movement.
But the exile did not last. And Los Angeles, once again, is the scene of a Tavis Smiley reinvention.
For the last 20 months, the 58-year-old has forged a comeback path as the majority owner and morning host on KBLA 1580, an AM radio station that he is determined to fashion into a hub for Black and progressive listeners.
"On this side of the PBS drama, what you hear in my voice is a sincere depth of gratitude to be back in the game, back in the business, to be in this space," Smiley said recently in a lounge at his Crenshaw Boulevard studio, in one of the few interviews he has given in the last five years. "The sweet spot for me has always been talking to people. These three hours on the radio are the best part of my day."
There has been no independent measure of the size of KBLA's audience. Smiley concedes the 50,000-watt station would trail many of its dozens of competitors in the crowded Southern California market, if he bothered to pay to be measured by the Nielsen ratings service. (Which he hasn't.)
And Smiley has not put the PBS furor entirely behind him. After a Washington, D.C., jury found in 2020 that he had breached his contract by violating its morals clause, a judge ordered him to pay $2.6 million. The judgment still has not been paid, with the broadcaster launching a second court case, in Los Angeles, to collect its money.
But on the air at KBLA, Smiley appears unimpeded by the controversy. He has been able to interview or win support from a broad array of individuals, including Mayor Karen Bass, filmmaker Mario Van Peebles, civil rights attorney Connie Rice, Los Angeles Urban League Chief Executive Michael Lawson, U.S. Rep. Adam B. Schiff (D-Burbank), rap superstar Snoop Dogg, radio commentator Earl Ofari Hutchinson and U.S. Transportation Secretary Pete Buttigieg.
"Tavis is like a force of nature in the Black community," said Rice, a longtime LAPD reform activist. "He carries his own gravity and he'll attract a network of leaders and thinkers. I will not be surprised to see that translate into strong radio and maybe even to other platforms."
It has not been lost on Smiley that other prominent media figures accused of sexual harassment — such as PBS' Charlie Rose and NBC's Matt Lauer — have failed to find a way back to the public stage.
"But everywhere I went, I continued to hear from people. They would tell me how much they missed my voice," Smiley said. "It became clear to me that if I was going to get back to what I was placed here on Earth to do, I would have to create it myself. So it's no longer about asking for a seat at the table. It's about building your own table."
In November 2020, Smiley and a group of investors paid $7.15 million to buy KBLA from Multicultural Radio Broadcasting, a New York company that owns and operates about 40 stations nationally. Smiley said he remains the majority owner, with partners who include media entrepreneur Ice Cube and HBO talk show host Bill Maher.
The transfer of the station's Federal Communications Commission license has been postponed several times, as Smiley Radio Properties awaits funding of a loan from the federal Small Business Administration, FCC documents show. Smiley said he expects the transfer of the license to be completed by April 15.
KBLA faces the same challenges as many other legacy media operations, trying to create a sustainable income stream with advertising overwhelmingly shifting toward digital operators.
"People are really being squeezed. It's like dimes on the dollar," said Michael Harrison, founder of Talkers, a radio trade magazine.
But Harrison said Smiley's chances of success are enhanced by his stature as a national media figure and his focus on a specific audience.
"I give him the benefit of the doubt that this is going to have an impact," Harrison said. "It doesn't guarantee that he's going to be successful financially. But it's a start."
The creation of KBLA as a Black-owned and -themed station represents another sort of return for Smiley. When he first reached audiences coast to coast, it was as a regular guest with African American-themed programs, first Tom Joyner's morning talk radio program and then Smiley's own show on TV's BET.
"I went from the Blackest media outlets in America to the whitest networks in America" — NPR and PBS, Smiley said with a smile. Now KBLA features Smiley, from 9 a.m. until noon weekdays, along with roughly 10 other hosts, all Black, filling the rest of the schedule.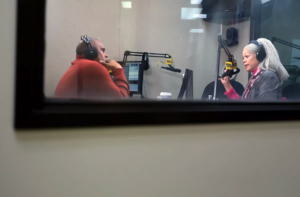 Tavis Smiley, owner-operator and morning host of radio station KBLA, interviews civil rights attorney Connie Rice on Feb. 1. (Christina House / Los Angeles Times)[/caption]
And within the Black community, Smiley's reemergence has produced no major blowback or protests. His long and deep ties in African American political circles — with allies like Bass and suspended Councilmember Mark Ridley-Thomas — have provided a base of support for both the owner and his station.
"We don't like attacking Black leaders. Black leaders are few and far between," said Dermot Givens, a Los Angeles attorney and political consultant who has appeared on KBLA. "So we generally stick with the ones we have."
That's not to say that the PBS fall and its aftermath have disappeared.
The public broadcasting company's action in Los Angeles County Superior Court seeks broad access to Smiley's financial records in order to collect the $2.6-million judgment, plus interest — stemming from a Washington, D.C., Superior Court jury's finding in 2020 that the host violated the morals clause of his contract.
Smiley accused the broadcaster of overreaching to recover the money from his personal funds, rather than his production company, which was the target of the litigation. He said the library of programs held by his TS Media Inc. could be sold to produce more than enough money to pay the judgment.
Smiley called the pursuit of his other assets "a continuation of their efforts to destroy me by any means necessary."
PBS responded to that claim with a statement. "Mr. Smiley's meritless grievances were aired in court three years ago," the company said, "and the jury ruled in our favor on all counts. We continue to work to collect the judgment the court awarded us."
Told of Smiley's suggestion that selling his old programs would raise enough money to pay the judgment, one PBS executive said: "It begs the question: If he has the assets, why hasn't he paid?"
Nothing in Smiley's early life guaranteed he would ever rise high enough to have to worry about something like a comeback.
He was the oldest of 10 children in a family that got by on his stepfather's salary as a noncommissioned Air Force officer. His origin story, told in one of his roughly 20 books, focuses in part on overcoming a horrific beating his stepfather administered when Smiley was a seventh-grader.
"I committed myself that I would do everything I could to put as much distance between that moment and myself as I could," Smiley says today. "I wanted to make something of myself."
The young Smiley sought solace in the Rev. Martin Luther King Jr., listening for hours to vinyl recordings of King's speeches. He memorized the words and absorbed the cadences of the civil rights leader, who became his hero.
That led to Smiley's emergence as a high school speech and debate star, then a student leader at Indiana University. That gave him entree to a gathering of Christian student leaders in L.A., not long after the city's triumphant hosting of the 1984 Olympics.
Smiley still recalls escaping frigid Indiana, his jet descending into the sparkling lights and warmth of L.A. Within days, a friend had brought him to visit Brown, the football legend. To a sheltered kid, who spent almost every day of the week in a Pentecostal church in the Midwest, it all felt like a dream.
"It sounds corny to say, because I had never been here before, but I felt like I was coming home, when I got to Los Angeles," Smiley said. "And all these decades later, this still feels like where I belong."
His work for Bradley led to meetings with some of his boyhood heroes, including Nelson Mandela, Muhammad Ali and Poitier. "Mr. P" became a regular partner for lunches at the Four Seasons, one of the many ways in which Smiley said his life exceeded his dreams.
But everything changed in December 2017, when Smiley learned he had been suspended by PBS.
Smiley sued for wrongful termination and PBS countersued, contending that the star had violated his contract, which prohibited intimate relationships among employees or contractors. During the trial, six women testified that Smiley had pressured them for sex or told lewd jokes. Smiley testified during the trial that he had intimate relationships with two of the women, but insisted he never used his position as their boss to pressure them.
"I said then that I didn't harass anybody," Smiley says. "I didn't. I stand on that."
Several jurors told the Washington Post that the cumulative statements by the women, each providing similar testimony, led to their decision against Smiley.
Smiley and his lawyers wanted to dissect the PBS investigation into his behavior. He contended the review had been slanted against him and that the absence of the investigation from the court case made it impossible for him to properly defend himself.
PBS countered that it presented direct testimony from the women, affording Smiley's lawyers the chance to cross-examine them.
After a time, Smiley slipped from public view. He stuck largely to his Hancock Park home. When he went out, he said he'd sit in the back of restaurants. He left his mega-church for a smaller neighborhood congregation where he would draw less attention.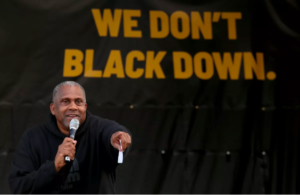 Tavis Smiley hosts a "homecoming" event for then-Mayor-elect Karen Bass sponsored by KBLA at Leimert Park on Dec. 10. (Genaro Molina / Los Angeles Times)[/caption]
Smiley grew tearful, recalling how some people he encountered would tell him, "We miss you." He said it felt like both a balm and a barb, a reminder of what he had to offer and what he had lost.
"These last five years have been the most difficult years of my life," Smiley said. "I've not been through anything in my life that comes remotely close to the pain and suffering."
Smiley has spent the last two years feverishly remaking KBLA, which most recently had been home to a Spanish Christian broadcaster.
He dubbed KBLA "unapologetically progressive" — hoping to attract liberals beyond its core African American audience. He assembled a slate of hosts, including actor-comedian D.L. Hughley, relationship specialist Zo Williams, finance authority Lynn Richardson and Dominique DiPrima, a mainstay of KJLH, L.A.'s top Black FM station.
He hopes to build an audience via word of mouth, exclusives and events. KBLA hosted a street celebration outside its Leimert Park studio for Bass, who later thanked Smiley "for bringing us KBLA and all that you do in our city for so many years." He concluded February — Black History Month — with "The Return," a radio play featuring Smiley in conversation with actors portraying King and Malcolm X.
One newsmaking interview landed in October, when Smiley lambasted City Councilmember Kevin de León, saying he and two of his colleagues had "shanked" Black people and were "plotting against us" after the City Council members were captured on a recording talking about how to shift council seats away from Black candidates.
Smiley demanded: "When people see you as a hypocrite, how can you stay in that seat?"
Eyes cast downward, De León absorbed the hourlong chastening. He expressed "my sense of shame … of embarrassment." Near the end of the castigation, Smiley offered the embattled politician a small reprieve, saying, "I believe every one of us can be redeemed."
Next up, Smiley said KBLA has hired a justice correspondent, who will be in the courtroom this week and "every single day" afterward, to cover Ridley-Thomas' trial on federal corruption charges.
While touting the public figures who have come on his show, Smiley also concedes there are many Hollywood "A-listers" he hasn't landed. He suggested that might be because radio does not have the same cachet as TV, or perhaps the celebrities want to "let this thing sort of settle … and see how the community responds."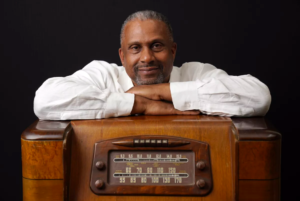 Tavis Smiley in 2021 with a vintage radio given to him as a gift to mark his relaunching of radio station KBLA. (Chris Pizzello / Invision/Associated Press)[/caption]
Smiley seems most at home in the glass booth constructed in the Crenshaw Boulevard office building he bought more than two decades ago — shepherding guests in and out of the cramped space, serially checking his phone for news that he might quickly throw into the daily mix, chopping up a bit of political gossip with a visitor.
As in his public broadcasting days, he likes to leap between diverse guests. One minute he is interviewing an academic about the concept of Black nihilism, the next he is asking pioneering rapper Big Daddy Kane whether he can still "spit" like in his prime.
The prospect of Black advancement and overcoming the brutality of racism is never far from the center of the conversation. But Smiley said he is ever conscious that he must entertain while he informs.
"Not every contribution we've made to music in this country has been socially redemptive," Smiley recently said as he interviewed a musicologist. "I think of Marvin Gaye. Now Marvin sang 'What's Going On?' but he also sang 'Let's Get It On.' So … we love good music, period."
With his eye on reaching beyond KBLA's Southern California signal, Smiley said downloads of the station's podcast are moving above 30,000 a month. The station's mobile app has been downloaded nearly 20,000 times, he added.
He said he won't pay the Nielsen ratings service to measure KBLA's audience because of the cost, adding: "I don't need them to tell me something I already know, which is that I don't have the ratings of my competitors yet. … It's a slow build. It's a slow grind."
Smiley insisted he was not carping. Offering a line oft-repeated during his show, he concluded: "If I complained, I would be an ingrate."
Times staff writer Matt Hamilton contributed to this story.